The #1 123 Forms Alternative
Take your form building & data collection to the next level
While 123 Form builder offers easy to use basic tools, Array includes advanced features - like PDF building, report building, automated workflows and task management which are available through affordable paid plans. We even have a free plan to get you started.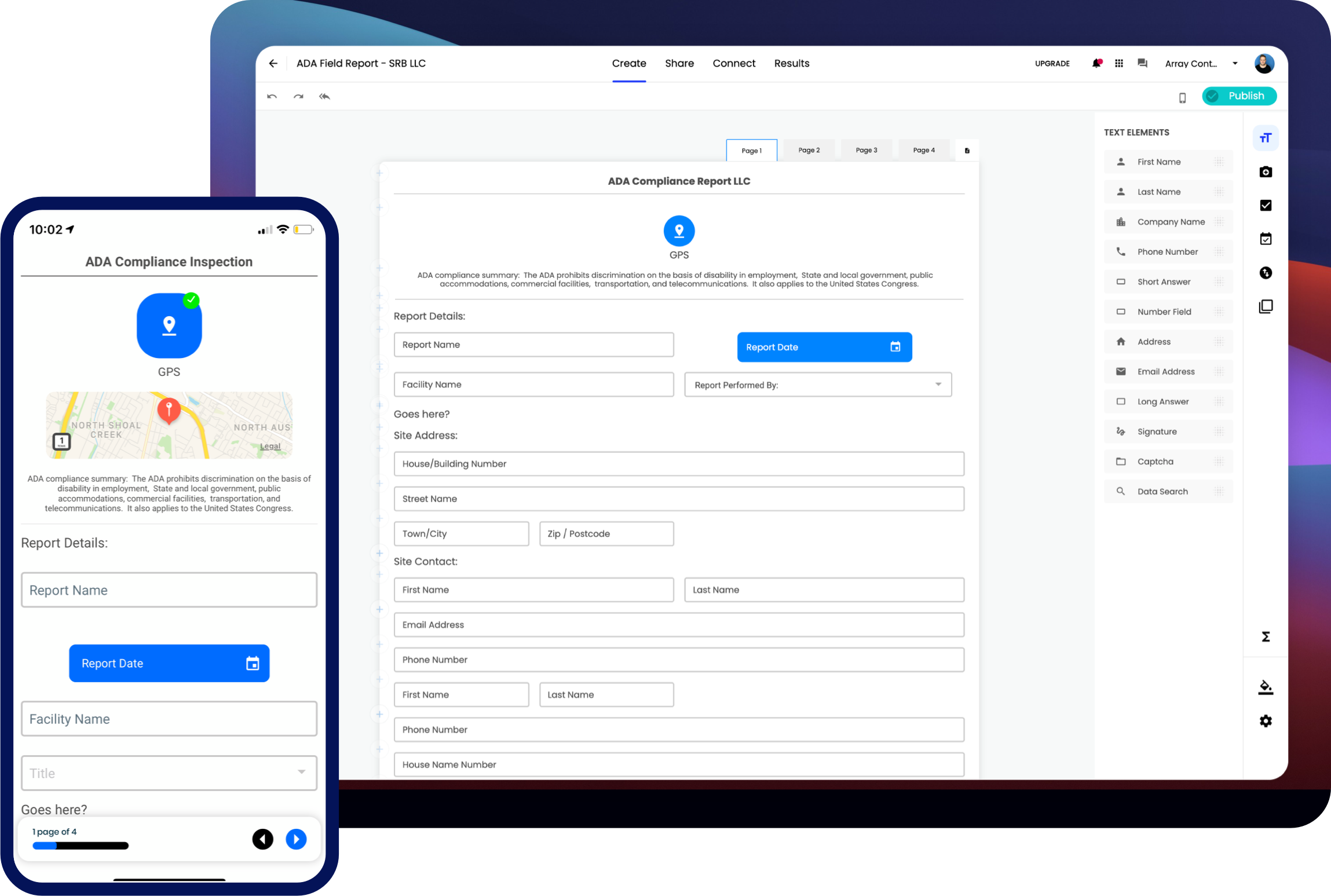 Migrate from 123 Forms
Migration is quick & easy, send us your forms and we will build them for you, for free.
Collect Payments and signatures
Choose a payment processor and start to collect payments straight away through an Array form. You can also collect digital signatures.
Mobile Friendly
Array forms look fantastic on any device. We also have a free IOS and Android app which lets you manage forms, assign tasks and work offline if needed from any cell phone or tablet.
Form Builder

Our powerful, simple to use form builder allows you to edit your form or build your own from scratch.

Instant Report Generation

No need to spend time writing a final inspection report. With Array, your final deliverable PDF automatically generates as you inspect the property and is instantly available upon completion.

Security

With E-Signatures, multi-factor authentication, user permissions, data encryption, and secure cloud-based storage, Array keeps you and your client's information safe, secure, and accessible.

Logic

Complex forms don't need to be complex to build. Array lets you use conditional logic to automatically change the fields users see, and to automate your email responses. Simply drop in a logic field and Array guides you through the rest.

Automated Triggers

Send text and email updates, request signatures, and deliver final inspection reports - All done automatically upon submission of the inspection form.

Integrated Media Capture

Capture photo and video directly onto your forms as you complete them. Draw over images and add text captions for even more detailed reporting.

Automated Workflows

Automate communications and assignments between contractors, clients and your team. Easily assign approvals, escalate issues and trigger automated emails based on the results of an inspection.
How we compare to 123 Forms
Feature Description
Array
123 Form Builder
Form Data to PDF Automation
Survey Form elements - Slider etc
Spreadsheet database connectivity
Affordable pricing plans
We offer discounts to larger teams and those who pay annually
Frequently Asked Questions
Does Array offer discounted pricing?

We offer a flexible pricing structure with discounts available for large teams and those who commit to a longer term period.

Does Array work well with other software and systems?

We offer integrations for all popular CRMs and project management software. We also offer API access so we can easily be integrated with 3rd party systems.

How do I build the form I need?

You can easily build the form yourself or use our free form building service. Click here to send your form to our team. We normally have your form installed onto your Array account within 1 working day.

What is the cost of using Array?

A fully featured package starts at a monthly cost of $40 per user. Discounts are available for larger teams and customers who commit to a longer term.

What new features does Array have in the pipeline?

Array leads the way in the development of form building, data collection and automation technology. Our latest product is Formview – The world's first form and video collaboration tool. Click here for more information.

Features in development for 2023, include an no-code app builder and updates to our workflow and task management tools.
Ready to Transform your Business?
Book a meeting to discover the power of Array in your operations
Arrange a discovery call