Array - #1 Forms on Fire Alternative
Upgrade to enterprise level data collection
Array offers access to enterprise level data collection and automation tools. Collect data from desktop, mobile or IOS/Android App, and save time by automating the flow of the data within your organization.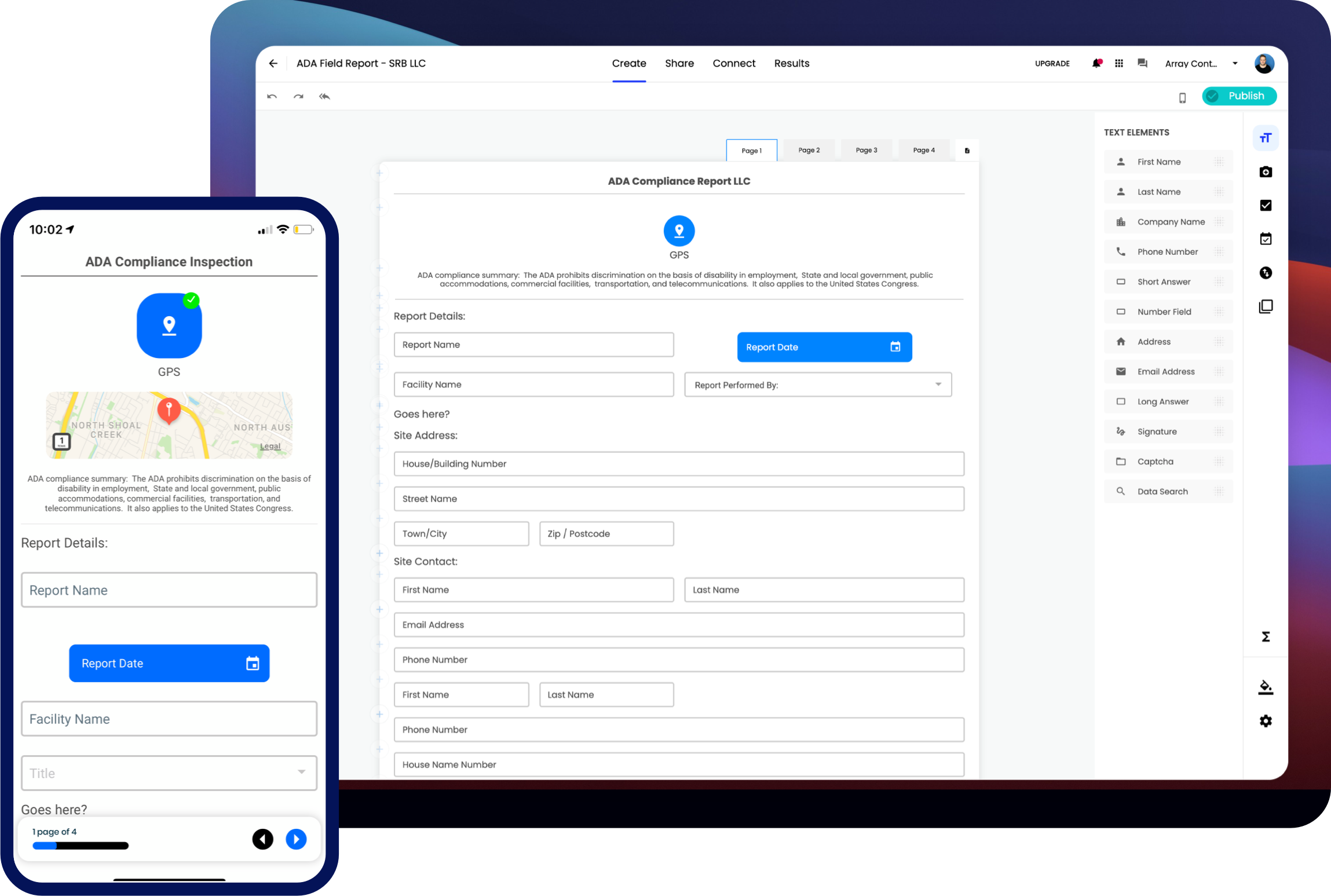 Automated workflows
Trigger notifications, task assignments and approval requests automatically based on the form data you collect.
Public sharing
Share your forms via email, a weblink or a QR code. You can also embed your Array form onto your website using html code we provide with every form.
Enterprise reporting
View report dashboards, updated in real time as data is collected to make intelligent decisions. Form data can be injected into your PDF report templates so when you download a submission, you have the finished report meaning no further work required.
How we compare to Forms on Fire
Feature Description
Array
Forms On Fire
Automatically create reports & contracts based on data collected
Works offline, not internet connection required
Automatically sync the data you collect
Barcode and signature capture
Industry specific form templates
Free 30 Day Trial on all paid plans
Frequently Asked Questions
Does Array offer discounted pricing?

We offer a flexible pricing structure with discounts available for large teams and those who commit to a longer term period.

Does Array work well with other software and systems?

We offer integrations for all popular CRMs and project management software. We also offer API access so we can easily be integrated with 3rd party systems.

How do I build the form I need?

You can easily build the form yourself or use our free form building service. Click here to send your form to our team. We normally have your form installed onto your Array account within 1 working day.

What is the cost of using Array?

A fully featured package starts at a monthly cost of $40 per user. Discounts are available for larger teams and customers who commit to a longer term.

What new features does Array have in the pipeline?

Array leads the way in the development of form building, data collection and automation technology. Our latest product is Formview – The world's first form and video collaboration tool. Click here for more information.

Features in development for 2023, include an no-code app builder and updates to our workflow and task management tools.