NFPA Approved forms Included
Fire Hydrant Inspection Software
IOS & Android App, No internet connection required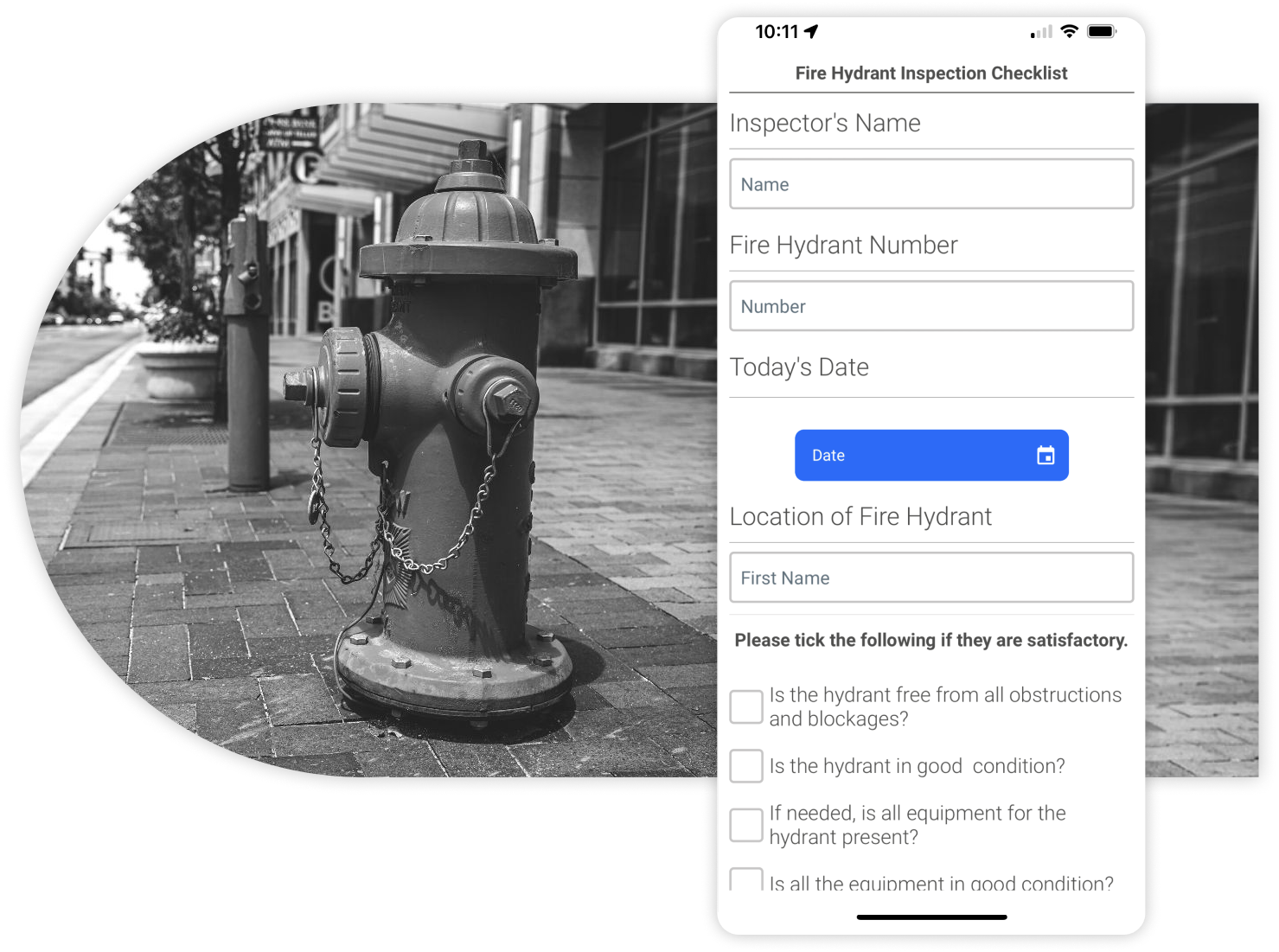 Mobile App
Use our mobile app to inspect and log the location and condition of fire hydrants.
Easy Inspections
Take photos or videos, capture signatures, make notes, and submit your data online or offline.
Work Offline
No Internet, no problem. Continue to work and submit your fire hydrant inspections. The Array app will sync as soon as a connection is available.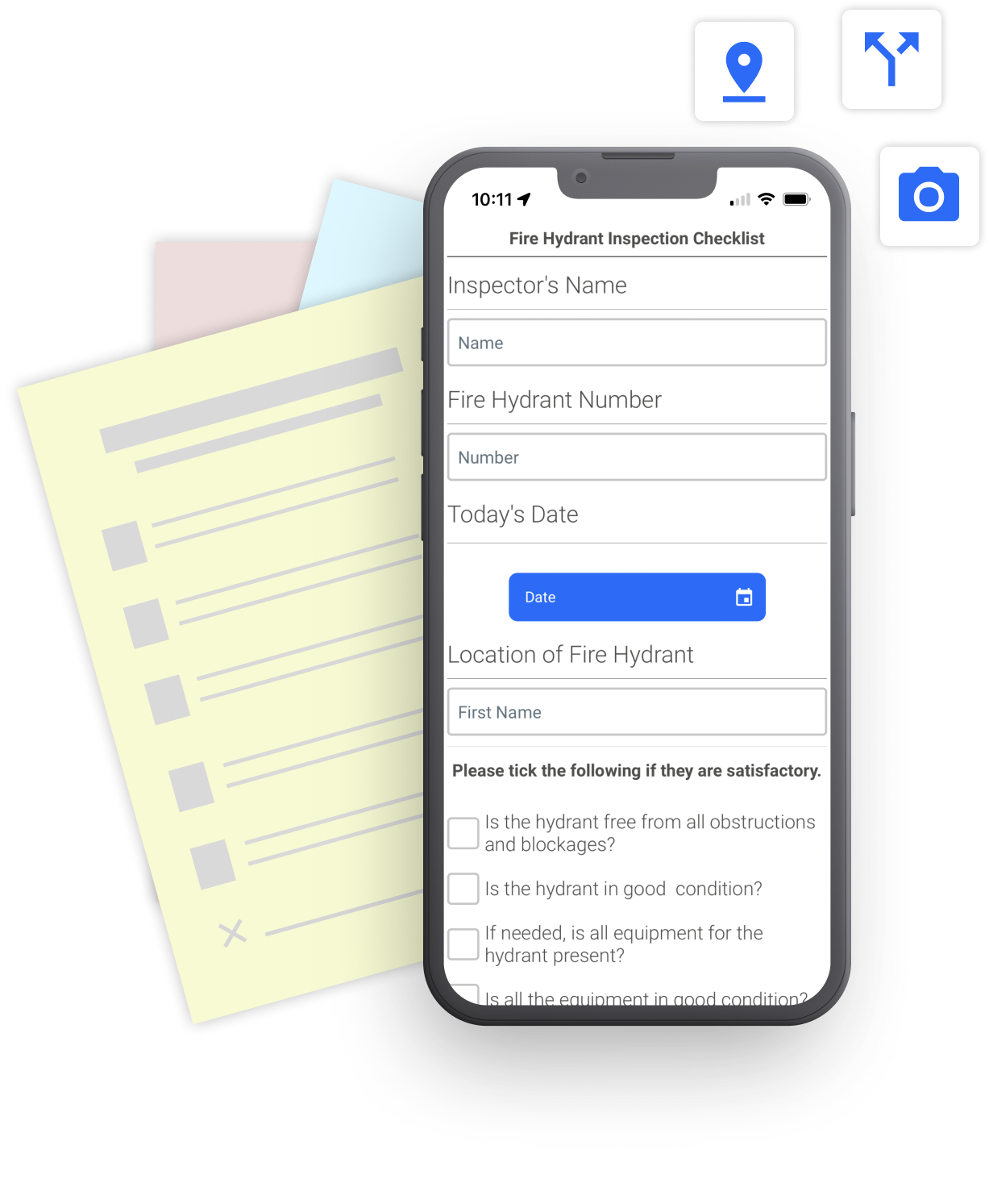 Go Digital
Add formula to your forms to automatically convert fire hydrant flow test results to GPM.
Use logic to create automated alerts when pressures are below NFPA limits.

Fire Hydrant Inspection Form & PDF Example
Below is an interactive demonstration which simulates how Array can take your form data and inject it into a PDF report. All the reports are fully customisable, and you can even upload or digitize your existing documents and reports within Array.
Just fill in the form on the left to begin. You can enlarge the form by clicking the magnifying glass icon.
Form Builder

Our powerful, simple to use form builder allows you to edit your form or build your own from scratch.

Sharing

Share your form with your team via an email or link. You can also share a QR code which will open the form when scanned.

Automatic Document Creation

Each NFPA form is paired with a PDF so you can download the completed document the moment the inspection is complete

Automate

Create workflows to trigger automated notifications, tasks or emails when a form has been submitted.

Smart Forms

Create smart forms which pre-populate via data calls and include dynamic sections which only appear when required.

Photo & Video Capture

Capture images and video from the fire inspection site, using your mobile device. You can also annotate over the media you have captured.

Real Time Reporting

View inspection data as it is collected in real time. Create custom reports showing where and when the fire inspections took place along with the name of the inspector.

Branding

Personalize your forms and documents with your company logo and color scheme.
Array Vs Joyfill
See how we compare to competitors
Feature Description
Array
Joyfill
Autofill fields of the same name in long forms
Familiar Keyboard Shortcuts
Free Form Building Service
Import historical data from Excel or other apps
Automated Syncing for offline submissions
Divide forms into multiple sections
Phone & live chat support
Email integration (connect Gmail, Outlook & more)
Dedicated Account Manager
User training & onboarding
Discounted pricing for Large teams
Task Manager to Schedule inspections
Try for Free
Frequently Asked Questions
Can I use Array Fire inspection software on my mobile device, in the field?

The Array app is available to download to your IOS or Android device. All the NFPA forms are available within the app, ready to start using for inspections in the field.

Does Array work well with other software and systems?

We offer integrations for all popular CRMs and project management software. We also offer API access so we can easily be integrated with 3rd party systems.

I am an independent fire inspector and work alone, do you have a package for a single user?

We offer a paid plan for teams of all sizes. From a single user to teams of over 100 inspectors. We operate a per user pricing model so you only pay for what you use.


Some of our inspectors are not confident with IT systems. How can we reassure them?

Array has been designed to be both powerful and easy to use. Our onboarding specialists will train your team at a pace they are comfortable with. In our experience, once your team sees how the inspection process is streamlined, they are excited to make the switch.

Sometimes we visit sites which have no internet connection, can we still use Array?

The Array app does not require an internet connection so you can work both online and offline. When working offline, your data will automatically sync with your account when a connection is available.

We use an old system with lots of paper forms. Will it be difficult to switch to a digital, paperless system like Array?

Our team will help you digitize any existing forms so they can be used in Array. The process is quick and simple and will soon start to save you time and money. We also hold a library of NFPA approved forms which are available with all Array plans.

What is the cost of using Array?

A fully featured package starts at a monthly cost of $40 per user. Discounts are available for larger teams and customers who commit to a longer term.
Your Digital Workhorse in the Field
Give your teams the confidence to conquer any job.
Efficient. Accurate. Array.
Try Array for Free