Roof Inspection & Reporting Software
All Roof Inspection Tools in a Single Device
Desktop, IOS & Android App, No internet connection required.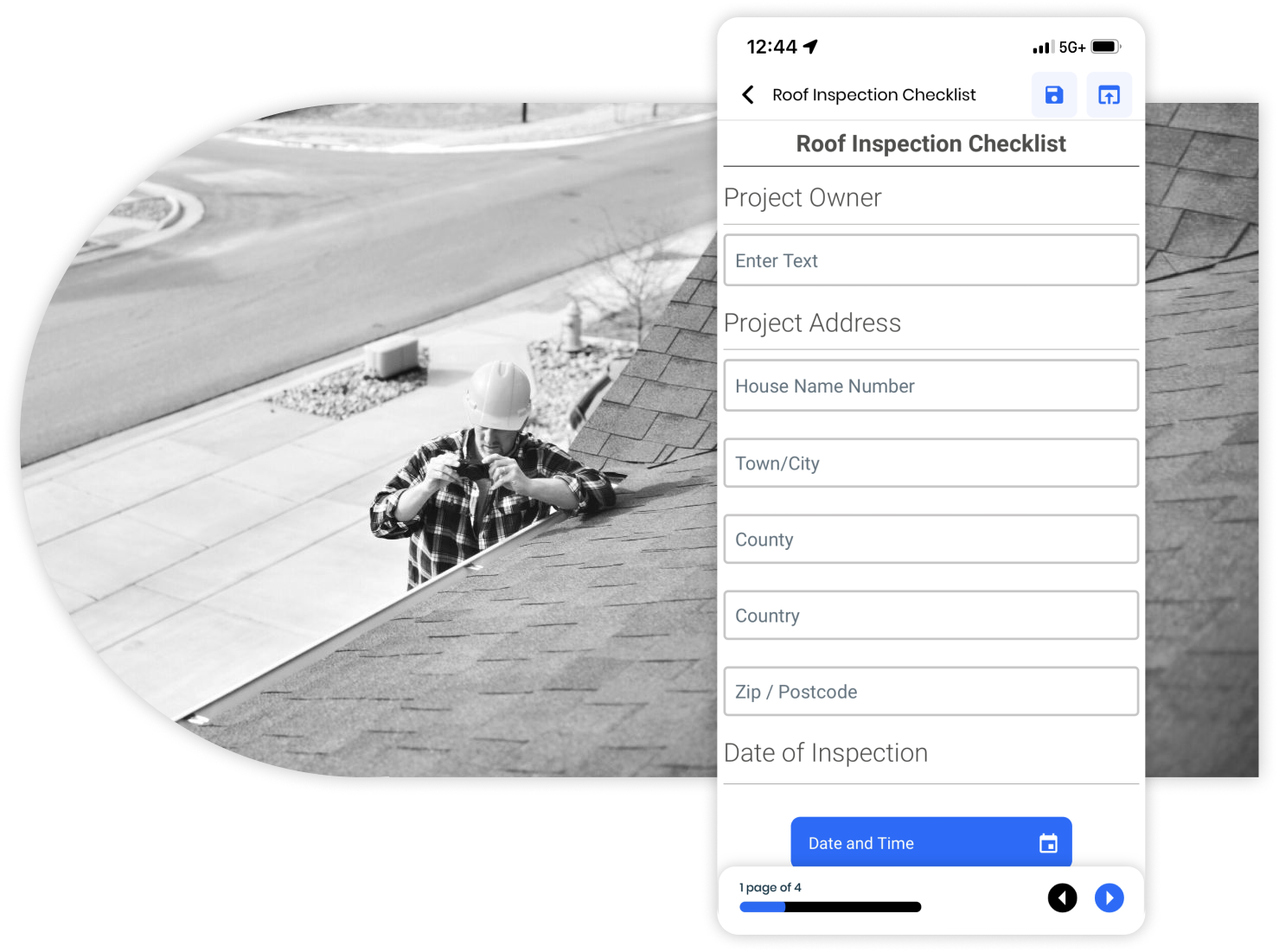 Capture Images & Video
Capture photo & video evidence of roof damage or dictate a voice note all from a cell phone or tablet.
Hands Free
By consolidating all your roof inspection equipment into a single device, inspectors hands are kept free to safely move around the site.
Free form building service
Use one of our pre-made roof inspection templates or ask our team to create a custom form and report template, for free.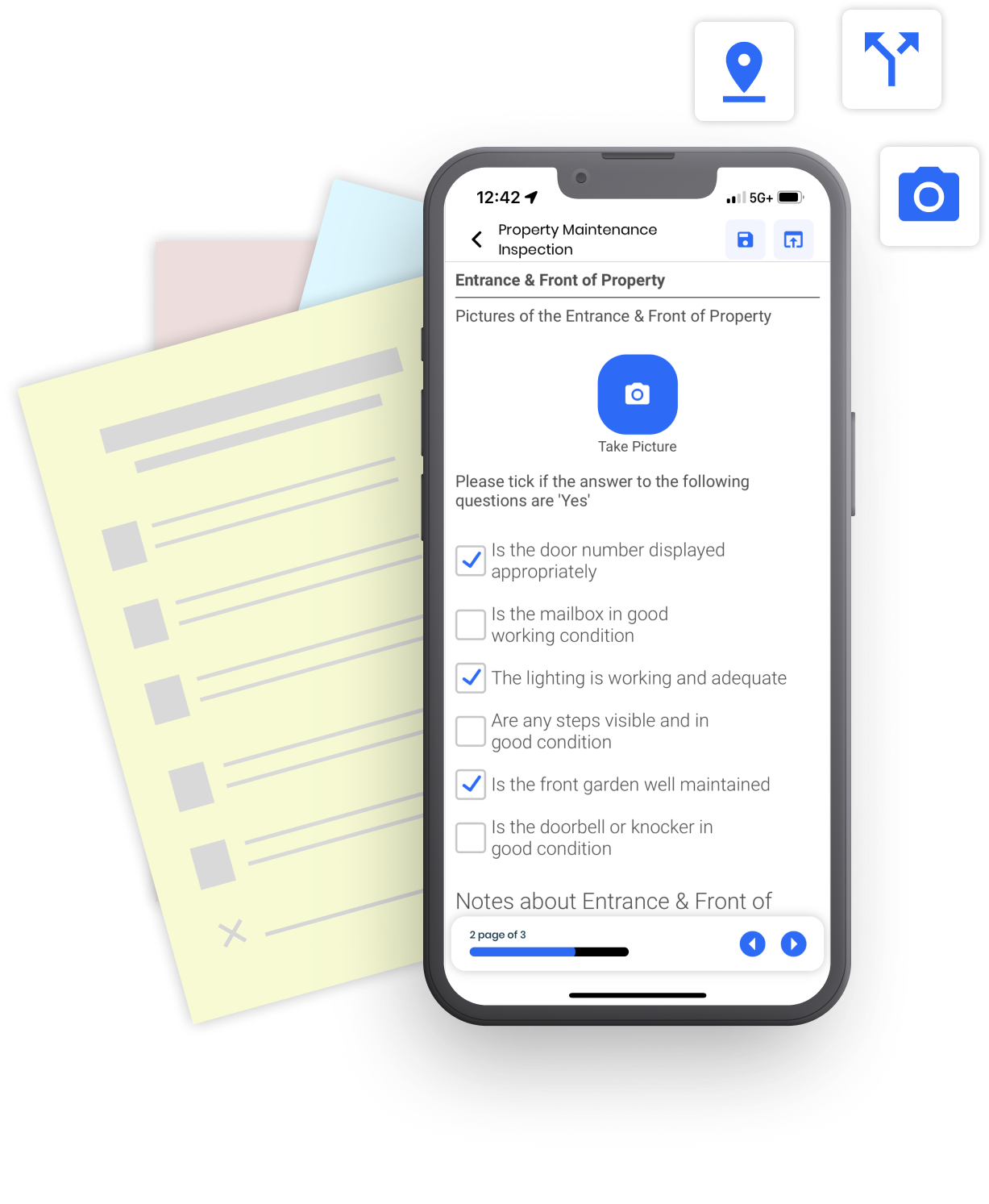 No more paper
Array automatically generates a completed PDF roof inspection report when the inspection is submitted.
Workflows can be used to automatically email the report to your team or directly to a customer.
This ensures there is no more time consuming manual data entry when the inspection has been completed.
Roof Inspection Form & PDF Example
Below is an interactive demonstration which simulates how Array can take your form data and inject it into a PDF report. All the reports are fully customisable, and you can even upload or digitize your existing roof inspection documents and reports within Array.
Just fill in the form on the left to begin. You can enlarge the form and PDF by clicking the magnifying glass icon.
Automated Workflows

Automate communications and assignments between contractors, clients and your team. Easily assign approvals, escalate issues and trigger automated emails based on the results of an inspection.

Document Creation

Each form or checklist can be paired with a PDF report template. Inspection data is then injected into the template to produce a completed report, ready to send to your client.

Virtual Inspections

Use Formview, the world's first form & video collaboration tool to carry out virtual inspections using your customers cell phone. Remotely control your customers cell phone camera, record video, all while speaking to them via a FormView video call. No App download required.

Branding

Personalize your forms and documents with your company logo and color scheme.

Smart Forms

Create smart forms which pre-populate via data calls and include dynamic sections which only appear when required.

Photos & Videos

Capture time stamped images and video from the inspection site using your mobile device. You can also annotate to highlight important areas of the photos you have captured.
Try for free
Frequently asked questions
Does Array offer discounted pricing?

We offer a flexible pricing structure with discounts available for large teams and those who commit to a longer term period.

Does Array work well with other software and systems?

We offer integrations for all popular CRMs and project management software. We also offer API access so we can easily be integrated with 3rd party systems.

Some of our inspectors are not confident with IT systems. How can we reassure them?

Array has been designed to be both powerful and easy to use. Our onboarding specialists will train your team at a pace they are comfortable with. In our experience, once your team sees how the inspection process is streamlined, they are excited to make the switch.

Sometimes we visit sites which have no internet connection, can we still use Array?

The Array app does not require an internet connection so you can work both online and offline. When working offline, your data will automatically sync with your account when a connection is available.

We use an old system with lots of paper forms. Will it be difficult to switch to a digital, paperless system like Array?

Our team will help you digitize any existing forms so they can be used in Array. The process is quick and simple and will soon start to save you time and money. We also hold a library of NFPA approved forms which are available with all Array plans.

What new features does Array have in the pipeline for claims adjusters?

Array is continually looking to improve existing products while looking to create new and innovative solutions for the claims adjustment industry. Our latest product is Formview, the world's first form & video collaboration tool - Click here for more information.

Other features in the pipeline include an no-code app builder and improvements to our workflow tools which further streamline the claims adjustment process.

Your Digital Workhorse in the Field
Give your teams the confidence to conquer any job.
Efficient. Accurate. Array.
Try Array for Free