When it comes to safety inspections, workflow automation, data collection and managing remote teams, how does Array stack up?
We're proud of the suite of tools we've built here at Array. We've seen how inspection companies, claim adjusters and safety experts use our tools to gather data in the field, manage tasks for their teams, and collect business-critical information from locations all over the world.
But we know you've got other data collection options to consider for your field teams. We know that choosing Array is a significant decision. So let's see how the system we're so proud of stacks up against our four primary competitors:
ProntoForms, GoCanvas, iAuditor and FastField.
Choosing the right data collection tool
We'll be comparing all five of the best data collection tools for field teams against the following criteria:
Data Collection Features
What sort of data can each tool's forms capture? Do field teams need to record everything manually, or can these tools automatically log crucial inspection details?
Field Access
What use is a data collection tool if it can't be used in the field? Can these tools be used anywhere and everywhere, or are they limited by any other factors?
Task Management
Collecting data is only part of the story. Can these tools help you take the information you've collected and create workflows, set tasks, and track progress?
Additional Features
Each of the five tools we're looking at will have their own strengths and weaknesses. In this category, we'll look at any additional features that might influence your decision.
Price
Finally, we'll look at price. The dollar cost might not be the biggest factor for your organization, but it's something you'll need to know before you decide which of these tools is best for you.
Data Collection Features
This is where we invested most of our time when developing Array. Our tool offers a huge range of data collection features - text forms, drop downs, media uploads. But we went a step beyond. If a field inspector uploads a picture, Array lets them geotag it for an instant location, and add their own notes or annotations - perfect for logging a safety issue on a work site.
This isn't unique, iAuditor, ProntoForms and GoCanvas compare well with Array, but FastField lacks our OCR functionality - which makes life tougher for anyone collecting written information as part of their inspections.
Field Access
Data collection in the field requires access to your tools wherever you are. You can't haul a laptop up a ladder to carry out a safety inspection on a roof, and there's no point automating workflows for remote teams if they can't see what needs to be done until they're back in the office. Array is designed for ease of use everywhere - with web forms that can be used on any computer, laptop, or mobile device, along with an app for tablets and smartphones that can collect data even without an internet connection.
While all four other tools offer an app for both Android and iOS, GoCanvas lacks webform functionality, meaning it's just that little bit less flexible than Array and the other leading data collection tools.
Task Management
Task management for managing remote teams is where Array shines. We don't just let you set up workflows and tasks for your employees. We help you automate those tasks, reducing your administrative workload, and saving you time and money.
iAuditor lets you create tasks from a template, but is strangely quiet on the subject of automating workflows, while GoCanvas doesn't mention workflows at all, choosing instead to focus on their data analysis functionality.
Additional Features
A quick glance at a side-by-side comparison shows that each of Array's competitors has a handful of unique features. GoCanvas has an Accident Investigation function (which can be replicated with an Array workflow), iAuditor's specific equipment management function would need an Array user to pull a form from our library, while FastField's Survey Builder is only superficially different to Array's Form Builder.
But Array's main additional feature is that it seamlessly consolidates a whole range of business applications into one single platform. We share the functionality of our competitors, and add in automation, high-level data security, and the ability to integrate with the other tools and applications you use. Put simply, if there's an extra feature you need that Array doesn't yet offer, you can be sure we'll integrate with a tool that does.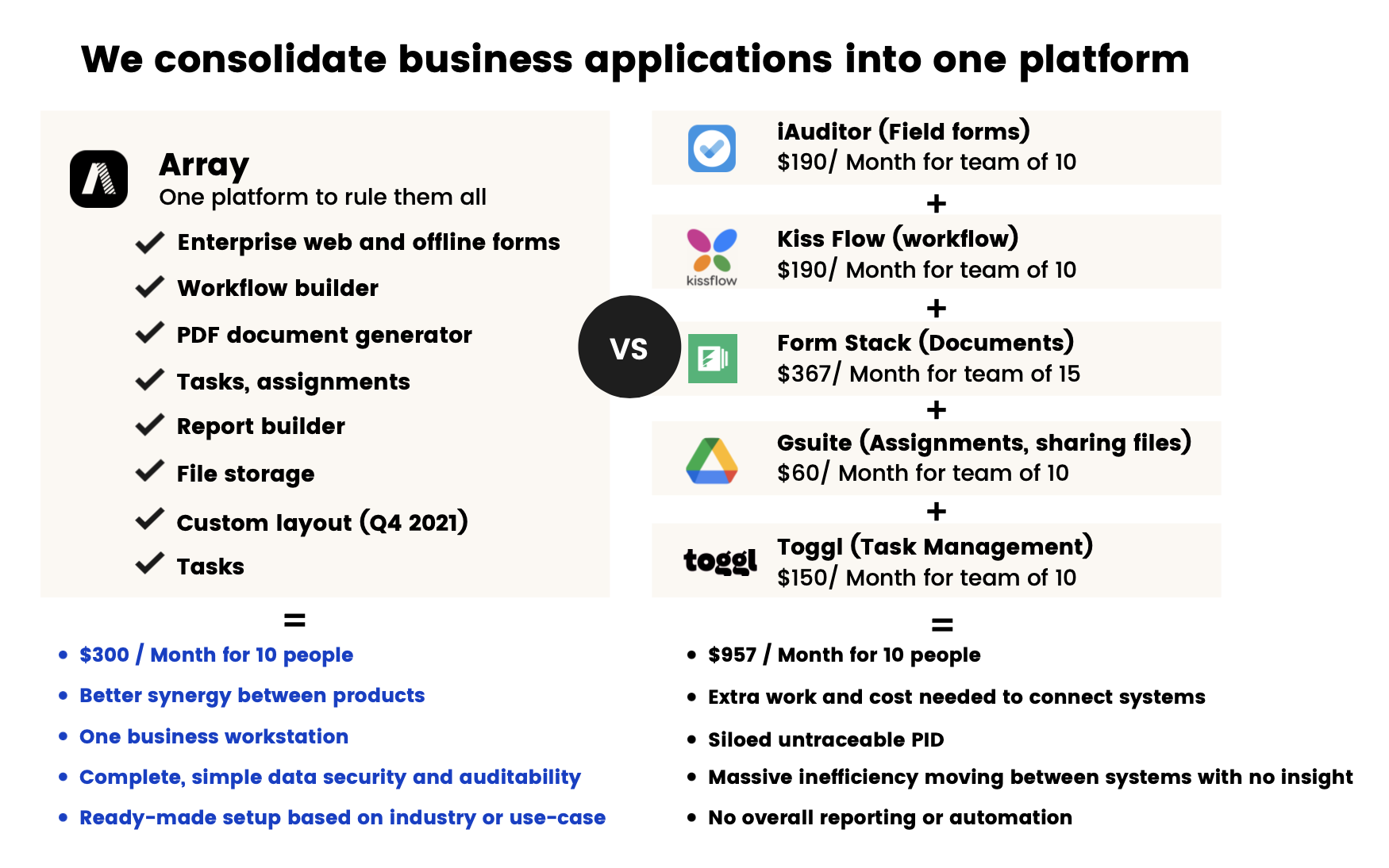 Price
The final consideration here is price. While you might be happy paying more for greater functionality, the cost of the data collection tools you choose will still be a factor: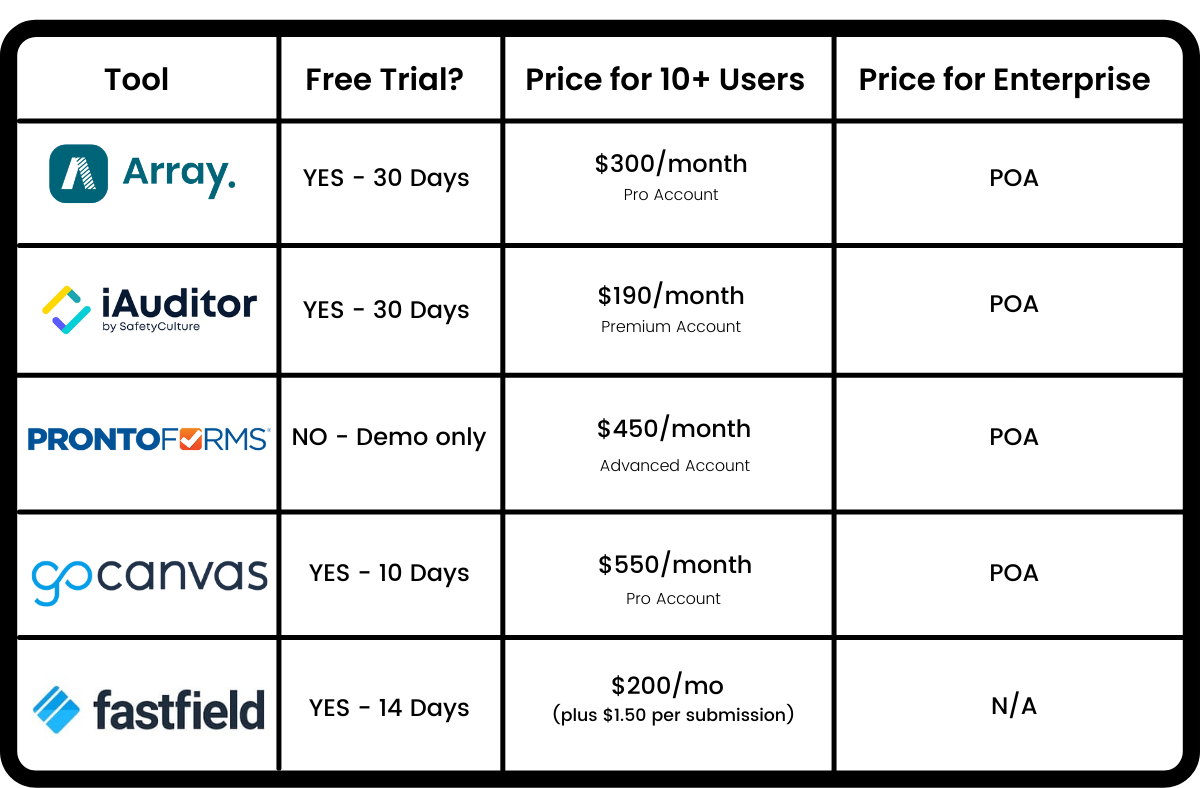 As you can see, while Array isn't the lowest cost tool available, it's far from the highest, doesn't charge extra for form submissions, and includes a full 30 day free trial.
Which of the five data collection tools is best for you?
That's a question only you can answer. But as we've shown, Array is equal to or better than our four main competitors when it comes to data collection, task management, field access and additional features - and it's more affordable than half of the alternatives.
The only way to really choose which data collection tool will help you manage your field teams is to try them for yourself. So start today, with a 30 day free trial of Array. No credit card required.