What is Remote Virtual Inspection and Why Do You Need it?
The COVID-19 pandemic forced nearly every industry to take another look at how they operate on a daily basis. Businesses had to make adjustments to adhere to new health standards while continuing to serve their customers with the same level of aptitude as before.
Some of the changes that resulted from this new workflow were not so great. New processes helped get the job done, but weren't nearly as efficient as before. Thankfully, many restrictions have been lifted allowing most businesses to operate as they did before the pandemic.
There were some changes that developed from the pandemic however, that have found their footing and become part of the normal work stack for many organizations even after the restrictions have been lifted. These changes are sticking around because of the value they bring to businesses and they way they improve their processes.
What is a remote virtual inspection?
One of the most impactful process changes spurred on by the pandemic was the rise of the remote virtual inspection. Previously, most inspections across industries were done with the inspector on site.
Obviously, when travel became restricted and in-person interactions were limited, businesses needed to find a way to perform inspections without having any physical contact. The remote virtual inspection was formed.
Unlike a video conference, which has been common for years, remote virtual inspection software is designed with inspectors in mind. With this kind of software, inspectors can send an invite to their on-site contact, start a call, and control the contacts video camera. They can take photos, record video and audio, and even annotate that media all within the live video call format.
When a call is completed, you get all the data you collected, a recording of the call, and physical chat transcripts all wrapped up into a nice package. From there, the inspector can take that media evidence and complete their inspection report.
This saves countless hours and thousands of dollars on travel expenses while also creating a more efficient inspection process from start to finish.
Why do you need it?
One major benefit is the impact a remote virtual inspection can have on your bottom line. Money spent on travel expenses and the time it takes for an inspector to get to and from a job site eat away at profits. Beyond the financial incentive lies a greater benefit. You can drastically improve your workflow while also providing a new service to your customers that makes their life easier.
Most remote virtual inspection software functions as a hybrid between video conferencing and data collection tools. They bridge the gap of those two softwares and allow inspectors to collect data while on a video call and without having to be physically present at the job site.
But what happens after you've collected your inspection data? You still need to take all that data and compile it into a finalized inspection report that can actually be delivered. As it stands now, every remote virtual inspection software doesn't have the ability to enable remote video communication, collect on-site inspection data virtually, and format and finalize that data into a deliverable document output.
Except for one.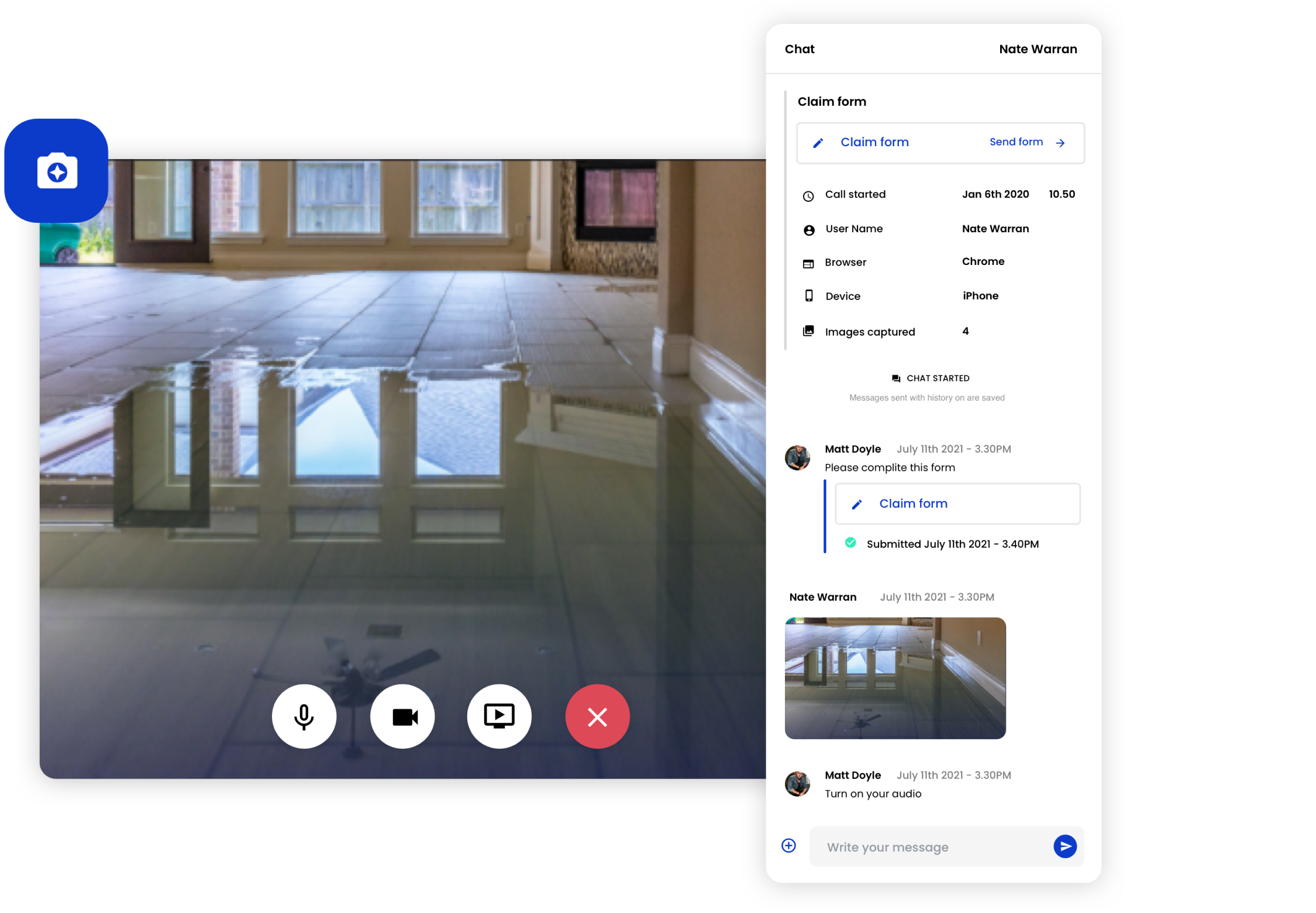 Introducing Formview, powered by Array.
Formview is the only remote virtual inspection software that not only lets you video call your customers and collect photos and videos for inspections, but also allows you and your customers to collaboratively complete inspection forms within one cohesive platform.
Heres how it works:
Schedule a call with your on-site contact. When the appointment time arrives, they are notified with a text message or email to join the call from any web-enabled mobile device. You join the call from your desktop in the office.
Complete the inspection. Control the customers camera from your computer to take pictures, fill out the inspection form with them in real time, and get every piece of information you need.
When the inspection is complete, just click "submit". The completed form, all photos, a video recording of the entire call, and the chat transcript will all be saved on the secure Array server.
Use automation to instantly generate a fully custom, finalized inspection report document that can automatically be sent to any necessary parties. Formview also integrates with countless platforms, so your remote virtual inspection data can be exported out wherever it needs to go.
Remote Virtual Inspections are about saving time, saving money, and providing a better inspection experience for your customers. The majority of existing platforms help with this, but they still leave your inspectors with the extra administrative work of compiling, organizing, and delivering actionable data.
Try something new with Formview. Start a free trial today to see how you can not only save money, improve your workflow, and create a more efficient inspection process, but also provide the best possible customer experience.