Best Fire Inspection Software
When it comes to fire inspections, it is important that inspectors have the best tools to make sure properties are completely safe and fully compliant with NFPA standards. Unlike many other types of inspection, fire inspection actually has the role of saving lives through risk mitigation.
Inspectors have the responsibility of checking properties to make sure the structure's inhabitants are safe from potential equipment failure and protected in the unfortunate event a live fire scenario. They need tools that will not only help them get the job done more efficiently, but will also ensure the highest level of accuracy possible so they never miss details that could be the difference between life and death. When shopping around for software designed to assist in fire inspection, you should keep in mind some of the features that make for a highly effective tool:
Mobile Forms and Documents
Data Reporting and Analytics
Scheduling and Dispatch
Integrations
Offline Compatibility
Security
Workflow Automation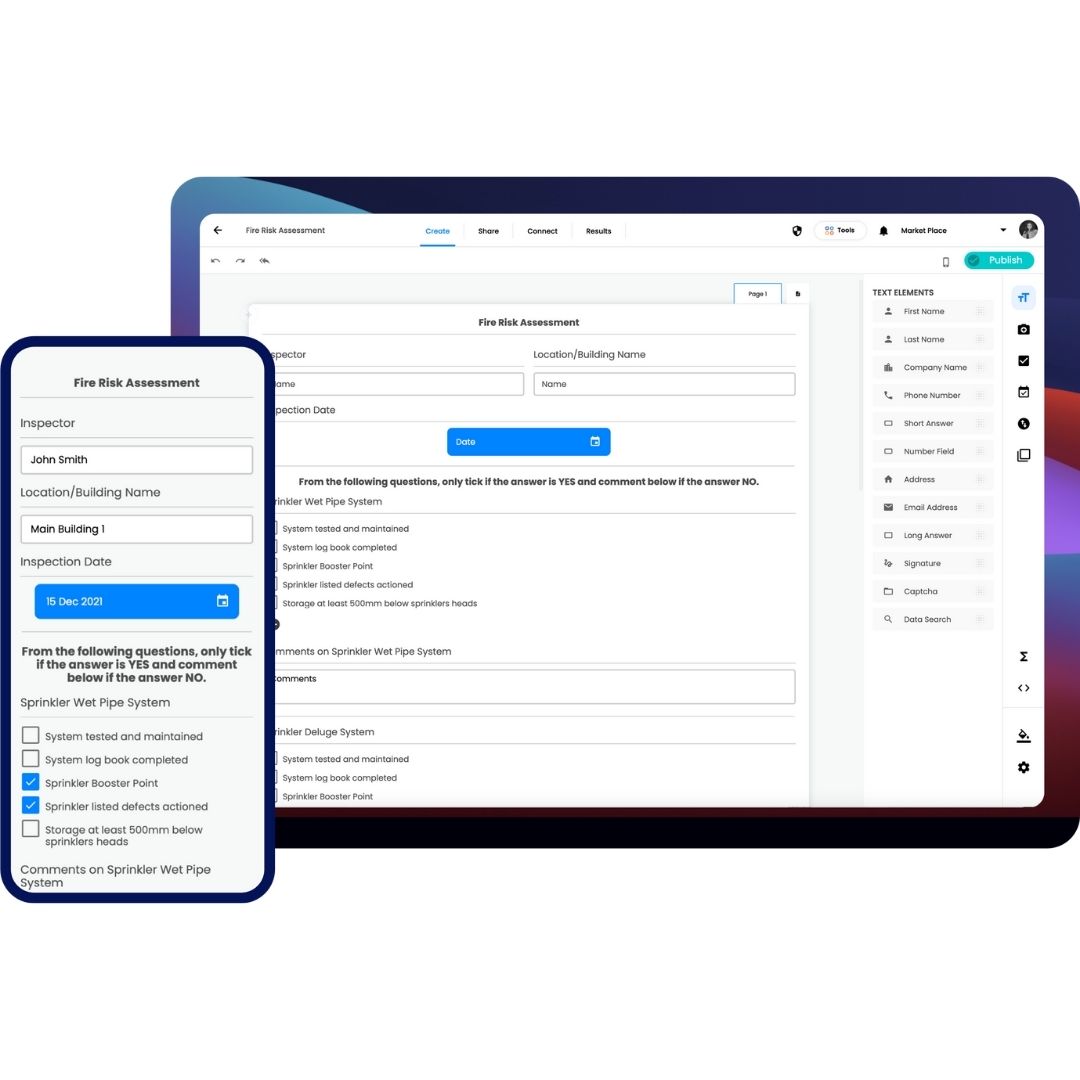 The Best Mobile Application for Fire Inspection
Array has more functionality and features than other mobile inspection apps. When it comes to fire inspection, Array helps inspectors stay fully compliant with NFPA standards and codes, complete inspections with 100% accuracy, never miss important inspection details, reduce administrative workload, and connect remote teams seamlessly to the home office. It has all seven of the essential components of effective fire inspection software plus dozens of other features to support various business operations.
Mobile Forms and Documents

Nobody does mobile forms like Array. With the smartest digital forms on the market, Array doesn't just assist you in your inspection, but instead functions like a co-pilot taking part of the strain off of you. Most mobile form solutions just function as fillable PDFs. These are non-intuitive, lack true functionality, and do very little when it comes to true automation. Array's forms function natively on the iOS and Android compatible platform, and then after submission automatically generate a separate finalized inspection document in the standardized NFPA compliant PDF format. With over 25 standardized NFPA forms already available in the library, and more being added every day, Array has the most powerful mobile form solution a fire inspector could ask for.

Data Reporting and Analytics

Array offers real-time reporting and analytics based on form submissions. Display your desired data on a digital dashboard based on any metrics you want. Do you need to know how many inspections you've completed in the last month and how many you have left before you've completed everything in your pipeline? Maybe you want to know what day of the week you complete the most inspections on so you can decide how to schedule your teams? Or do you need to see a map with every upcoming inspection address on it to help optimize your route setting? With Array's reporting function, the possibilities are endless. Choose your metrics based on form submission data and have it instantly accessible and updated in real-time as inspections are completed.

Scheduling and Dispatch

Array's newly improved task feature is more powerful than ever before. You can use it to manually or automatically assign tasks to specific inspectors based on metrics like location, time, or inspection type, include all the relevant documents and information, and track the progress of the task from the time of assignment to completion. Set reoccurring tasks for regular inspections, and let Array automatically send out email and text remainders to the property manager before a scheduled inspection. With integrations to platforms like Google Calendars, Array isn't just positioned to help you complete inspections once the inspector is onsite, but can actually assist you in the process of getting the inspector where they need to go when they need to be there.

Integrations

Speaking of integrations, Array connects and integrates seamlessly to countless other applications. Use Array with your existing RMS platform, Google Calendar, Evernote, current online storage drives, or virtually any other software platform. If we don't already integrate with your existing systems, let us know and we can take care of it.

Offline Compatibility

One of the most vital functions of any valuable fire inspection app is the ability to work offline just as well as it does when connected to cellular data or WiFi. Despite being in a modern world, dead spots happen and some properties just don't have internet. Fire inspectors still need to get the job done, so they need their mobile inspection forms to work in these instances without losing any of the features that make them so effective. Array works offline, and then stores the form data locally until connection is reestablished at which point the data is uploaded to the secure cloud server.

Security

Security is a big deal in the fire inspection world. Some inspection data is sensitive, and fire inspectors have a responsibility to keep that inspection data stored in a safe and secure way. Array keeps all your data on a fully encrypted cloud-based server, so you can be confident that your data is always safe. Additionally, Array offers even more security features like multi-factor authentication, custom user permissions, and administrative access levels to ensure that your data never falls into the wrong hands.

Workflow Automation

Every fire inspector knows that the job doesn't just stop once the inspection has been completed. There are reports to write, signatures to chase down, emails to send, and documents to deliver. Array takes all these time consuming administrative tasks and automates them so your inspectors can spend more time actually inspecting properties. With instant automatic final NFPA report generation, e-signatures, automatic email, SMS, and notification triggers, and more, Array does more work so you don't have to.
Fire Inspection. Powered by Array.
Sure, there are other fire inspection apps out there on the market, but none of them are loaded with tools like Array. Fire inspectors need the best tools to get the job done so they can keep their communities safe and prepared in the event of a fire. Array has every feature an inspector could want to help them complete the most accurate inspections possible with the highest level of efficiency. Load up one of the pre-built NFPA certified forms and try it out today.