Geo-mapping has an endless number of uses and is capable of being adopted by virtually any business including sales, marketing, logistics and distribution, health management and retail expansion. Array's Location feature utilizes this geo-mapping technology meaning that you can track where your data is captured anywhere in the world no matter your business's needs. Simply log into reports and see where your data is coming from.

Wait, What is Geo-Mapping?
"Identify geographical data trends"
Geo-mapping is an empowering technology – it takes any business data with a location element and turns it into a visually mapped interpretation. This, in turn, allows for stronger and more comprehensive analysis. Within Array, this analysis promotes better communications, more efficient business practices and, in many cases, a better ROI… Carry on reading and we will tell you how.
Array's Location Feature Can Improve Your Data Collection & Analysis Right Now
Once you create a form in Array, anyone who has access to the form is able to input data it. So, if you have operators out in the field, who are completing the forms on a mobile device, it can be useful to know their location when they submit the form. This utility can be great within many industries, but right now we are going to give you can example of how the Location feature can boost your sales productivity:
"Discover sales opportunities"
Say you have a team of sales professionals who are using a Array form when they are interacting with potential customers - it's important for your team to know that they are capturing all of the potential business in a particular area right? Well, with Array's Location feature you can track which geographical areas your sales team are targeting, which means that you can identify unintentionally omitted geographical areas from your sales drive. The location feature makes it obvious if you are. The locations of operators are displayed on a map so you can instantly see where the activity is concentrated, and where there are gaps.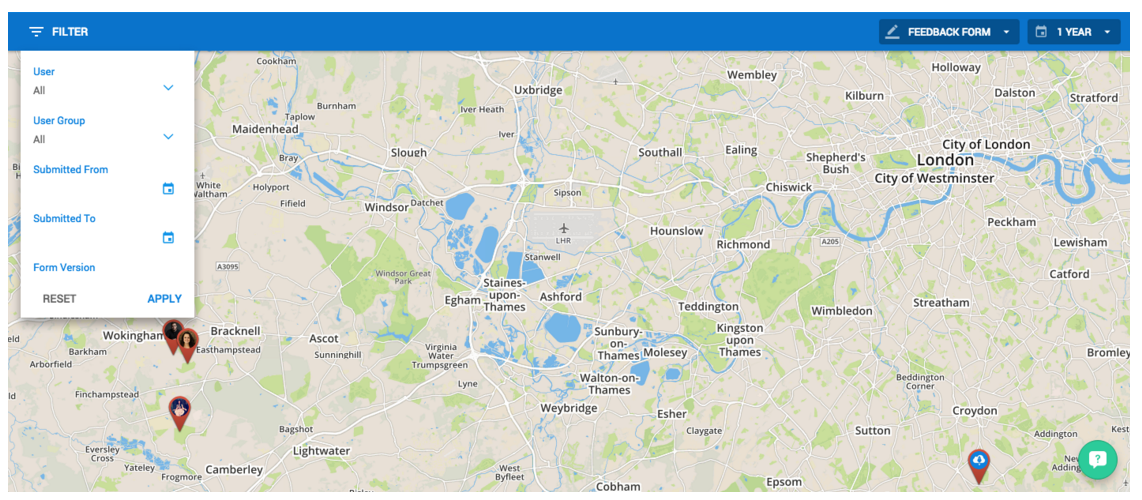 Okay, So How Do I Use The Array Location Feature?
It only takes a few steps to geo-map your data with the Location feature in Array:
Click on View Reports.
Choose the project you are interested in and click on the forms button.
Finally, click the "Locations" option to view submissions geographically.
As with the other report categories, this data can be filtered according to users and user groups, or based on a specific time frame. Once you have located an interesting piece of data, click on it for more options. You'll be able to quickly view any media, submissions, or reports associated with the form's response. You can also manage notifications from this window as well.
---
To get all the benefits of Array or to just find out how Array can help your small-to-medium business thrive, sign up here for free.