With employee health at the front of everyone's thinking, businesses across the US are looking to take precautions to keep everyone safe and limit the spread of COVID-19.
But few businesses can afford to have someone checking temperatures and asking about symptoms - not when there's other work to be done - which is why organizations across the states are looking for an automated solution.
Digital signage software developers SignJet believed they had a solution - an automated kiosk that'd check a user's temperature, check for a face mask, and run through a list of health questions. But they needed help automating and powering the questionnaires.
Enter Array.
The Client
SignJet provides automated and digital kiosks to convenience stores and retailers all over the US. They work with businesses where footfall is high, where customers want to be in and out quickly, and where brands have only seconds to make an impact.
They pride themselves on identifying the retail industry's most pressing problems and building custom solutions that solve them.
And what's more urgent than the global Coronavirus pandemic?
The Problem
Retailers are facing multiple challenges from Coronavirus. First, customers are staying away from stores where they don't feel safe, leading to a drop in sales and revenue. Secondly, COVID-19 spreading among employees leads to staff shortages and sometimes very serious illnesses.
SignJet saw a solution. A way of automatically, safely and remotely checking the health of anyone entering a store. Temperature's high? Not wearing a mask in a state where that's required? Sorry sir/ma'am, but you can't come in.
But a temperature and mask check didn't tell the whole story. They needed a way of quizzing guests and employees about their health without someone nearby reading questions from a checklist.
An automated form that users could fill in simply and quickly.
That's definitely a job for Array.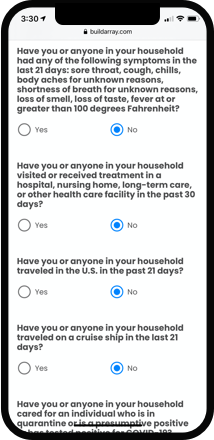 The Solution
Array's experts designed a form to be used with the SignJet Covid Kiosk - one that could be easily customized by businesses to ask the right health questions and updated instantly in multiple locations if guidance or advice changed.
That form links to an automation. If the user comes back as low risk, they receive a QR code in seconds. Show that to the smart kiosk, and subject to a temperature check, the doors open and the guest or employee enters the store.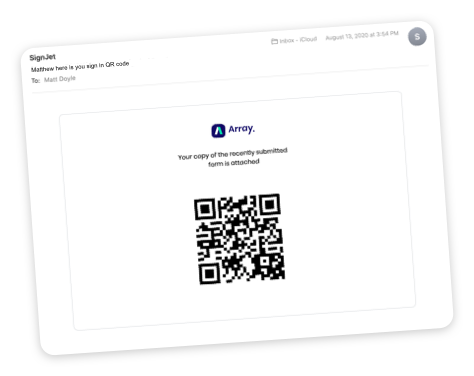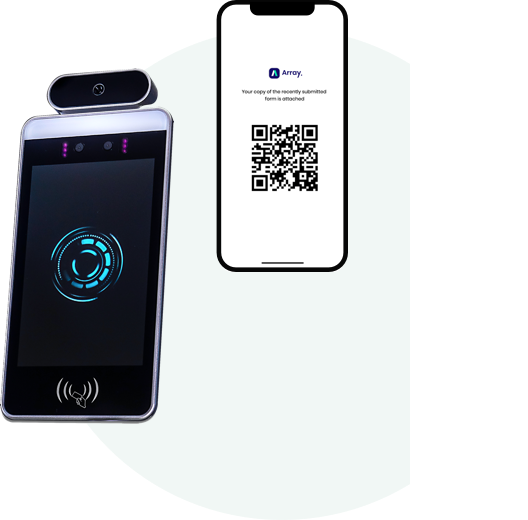 But if the user flags as high risk, they're turned away, keeping the business, employees and other customers safe from the risk of COVID transmission. The details are stored, notifying employers if a staff member has failed the safety check, so they can quickly arrange short notice cover.
All instant. All automatic. All remote.
All safe, and powered by Array.
The Outcome
With SignJet's facial recognition and temperature checking software paired with Array's forms and automation, the Covid Kiosk was soon ready to test and launch.
It's now being installed in stores and offices around the country, to make sure everyone stays safe and healthy, and that businesses and individuals are protected from the impact of the virus.
Even better, Array's data gathering and analysis is letting SignJet customers track the impact of COVID on their staff and customers, and make informed decisions about how best to change the way they work in the coming months.
Learn More About the SignJet Covid Kiosk
If you think the Covid Kiosk is right for your retail business, and you'd like to invest in a touchless body temperature detection system with optional face-mask and facial detection software, SignJet's kiosk is available on finance with no deposit required.