Introducing Array's new & improved Task Manager
Array is incredibly excited to announce that we are rolling out the new and improved Task Manger. Loaded with features and built to make your daily processes more efficient than ever before, Tasks is the perfect addition to round out the Array suite of tools for field to office teams.
Let's dive right in to see what's new with Tasks 2.0, and how you can apply it to your daily operations and your existing Array workflows.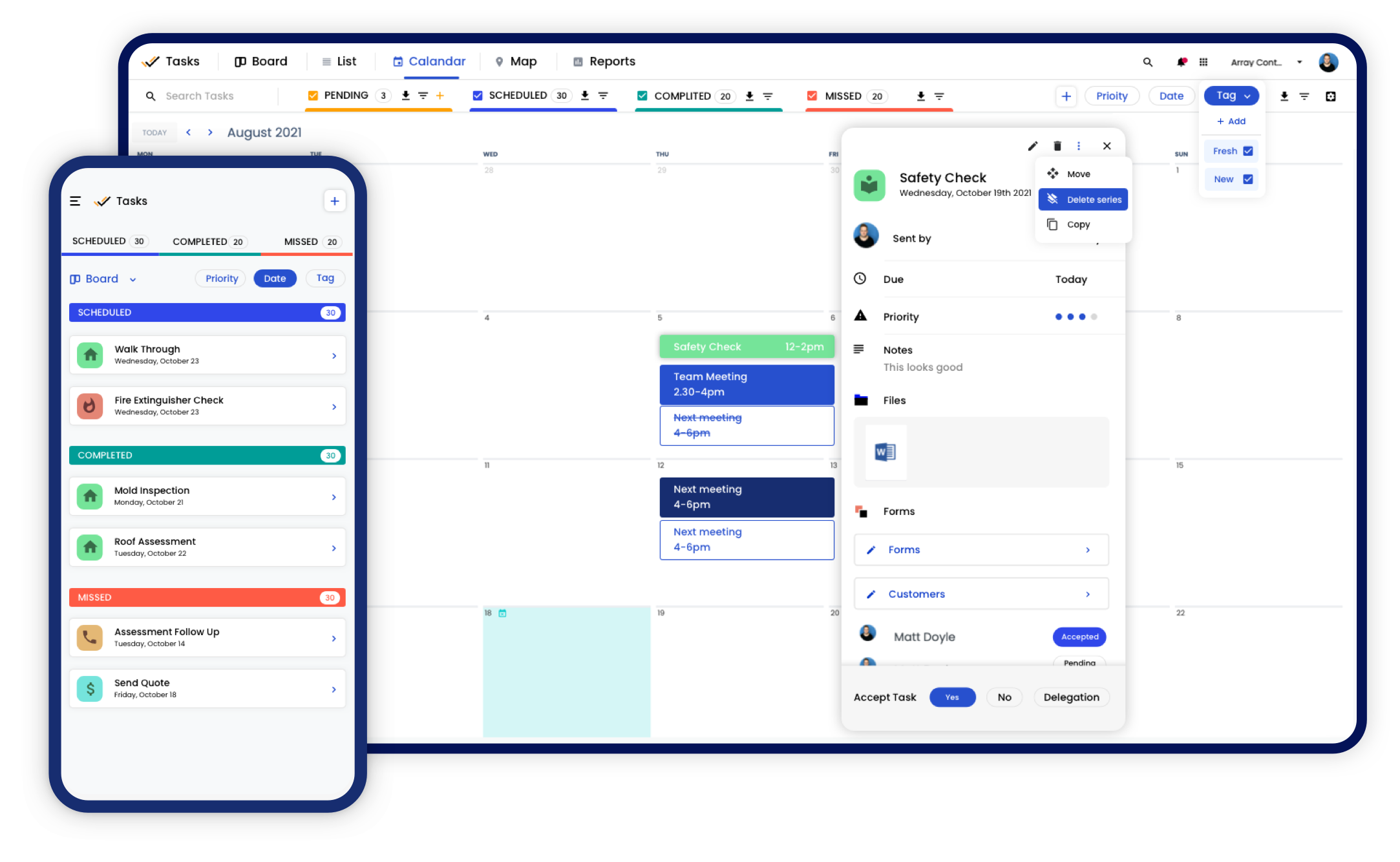 What is Tasks?
The Array Task Manager is a way to have total oversight of daily operations. You can create and manage tasks as an admin in the office, and then your teams can view and complete their tasks in the Array mobile app from the field.
Tasks lets you add organization to the way you dispatch your Array forms into the field. Create tasks, assign them to users both inside and outside of your organization, control delegation and escalation protocols, and attach all the needed forms and documents to get the job done right.
The Array Task Manager is more than just a to-do list. By combining Array's other powerful capabilities like reports and workflows, the Task Manager gives you more control over your daily operations than ever before. Oversee every responsibility from start to finish and stay informed the whole way.
Who is it for?
While any business could realistically benefit from Array's Task Manager, we built it with field to office teams in mind. The businesses that are going to get the greatest benefit from Tasks are the ones operating with office teams that control admin work but deploy teams out into the field in remote locations. Tasks lets the office team send and share information and job responsibilities in a cohesive and organized way for field teams to respond to.
For example, let's say an independent adjustment agency gets in a new set of claims after a storm. Using Tasks, they can create a task for each claim, attach the necessary forms and homeowner information to each task, assign it to the required adjuster in the field, and then track the claim from start to finish. The adjusters just have to open the Array app, view their tasks either online or offline, and complete the job like normal. Once the form is submitted the task will be marked as complete, and then the office team can view the data.
Tasks is a comprehensive way to keep the field and office connected, and keep your operations organized and running smoothly across all teams.
What makes Array's Task Manager different?
The biggest thing that sets Array's Task Manager apart from others on the market is that it is wrapped up in a suite of tools with all of Array's other offerings. Other task management tools might allow you to create and control tasks and dispatch them to users in the field, but they don't come with a powerful form builder, automated document generation, comprehensive reporting, and intelligent workflows.
Array's Task Manager is different because it is more than just a way to oversee tasks, but instead it is a bridge between your people and your processes. Now, you can not only use tools that improve your process, but actually control which people complete those processes - all while having a birds eye view of your daily operations.
Take a look at some of the new features that makes Tasks the perfect addition to your Array tools:
Multiple views
See your tasks laid out in whichever format suits your needs: by status view , custom movable board view, list view, calendar view, or report view
Organization & Filters
Organize and filter your tasks with custom tags or by priority, color & icon, user, team, location, or date.
Delegation
When creating a task you can set permissions on whether or not the user is allowed to delegate the task to another user if they don't have room on their schedule to complete it.
Escalation
Set escalation protocols that dictate what happens and who is notified when a task is missed for a certain amount of time.
Reports
Access custom reports on your task management to see data on your task status, users, location, teams, and other useful metrics.
Repeating Tasks
Need a task to repeat at the same time on the same days every week? Set a repeating task which will automatically populate as needed based on your specifications.
Mobile App
Your employees can access and manage their tasks directly from the Array App for iOS and Android mobile devices
Offline Capability
The in-app task manager works offline. All data gets stored locally and then is automatically updated to Array's secure cloud server when connection is resumed.
Time Tracking
Use the Array app to track the time it takes to complete a task from start to finish. Ensure that your employees are where they say they are, doing what they are supposed to be doing, when they should be doing it.
Attach Forms
Attach relevant forms directly to your scheduled tasks. Your employees can access the form from the task view, and the task isn't marked complete until the form is submitted.
Tasks, Powered by Array
Tasks can take your existing processes and give you a greater level of control than ever before. By connecting your field teams to your office in an intuitive way, you can have truly efficient and effective operational oversight. The best way to see exactly how Tasks can improve your operations is by seeing it in action for yourself.
Trial Array Pro for Free for 30 days. No Credit Card Required
Already have an Array account? Book a demo today to see exactly how Tasks can fit into your existing processes.