Once you have created a form in the Array system, anyone who has access to the form is able to populate it. If you have operators out in the field, who are completing the forms on a mobile device, it can be useful to know their location when they submit the form.
How is the location feature useful to your business?
Think of it this way; if you have a team of sales professionals who are using the form when interacting with potential customers it's important for you to know that you are capturing all of your potential business? Are you unintentionally omitting a geographical area from your sales drives? The location feature makes it obvious if you are. The locations of operators are displayed on a map so you can instantly see where the activity is concentrated, and where there are gaps.
How does the Array Location feature work?
It only takes a few clicks for you to be able to see where you forms are being submitted from.
Click on View Reports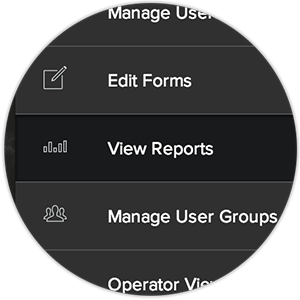 Choose the project you are interested in and click on the forms button.

Choose the form you want to look at and click on view. A drop down list will appear from which you should select location.
A map is then displayed. At the top right hand side of the map there are three buttons which, when clicked, provide drop down lists.

By clicking these buttons you can select another project or form to look at, and the period of submittal, up to four weeks.
The Array Location feature gives you the facility to immediately see the geographical area that form submittal covers, and allows you to identify any gaps in coverage.