Array is incredibly excited to announce that we will be attending SXSW 2022 in Austin, Texas this spring. On March 14, 2022 Array's founder, Matt Doyle, is set to take the stage and present on the future of no-code development and how no-code tools are democratizing app development.
For those unfamiliar with SXSW (South by Southwest), it is an annual festival and conference consisting of music, film, interactive exhibits, networking events, and educational presentations and panels which takes place in Austin, Texas every March.
With nearly 300,000 visitors annually, it's no surprise that SXSW is the stomping grounds of successful artists, inventors, and entrepreneurs from around the world. Often praised for being on the cutting edge of the tech industry, SXSW is known for introducing new innovative ideas to the world.
Enter Array Founder and CEO Matt Doyle.
With a fascinating entrepreneurial history that includes opening the markets at the Nasdaq, lunch with Richard Branson, and a failed professional snowboarding career, Matt has used his experience to educate listeners at dozens of speaking events over the last 10 years.
Ultimately, his journey led him to start the business that eventually became Array. A designer by trade, Matt saw a need for non-technical people to be able to build and implement highly technical software tools. In his mind, if you could visualize the way a tool should work, then you shouldn't have to jump through hoops to create it.
So Matt founded Array, a no-code platform that empowers non-technical people to develop powerful internal applications for their businesses. Using a design-centric mentality, Matt has given businesses across the world a suite of tools that makes their businesses more effective, efficient, and profitable.
This March, at SXSW 2022, Matt will share more about his history, how he got involved in the no-code movement, and how no-code is democratizing app development. By giving the every day business owner or employee the ability to build highly developed applications and tools, no-code platforms have created "Citizen Coders".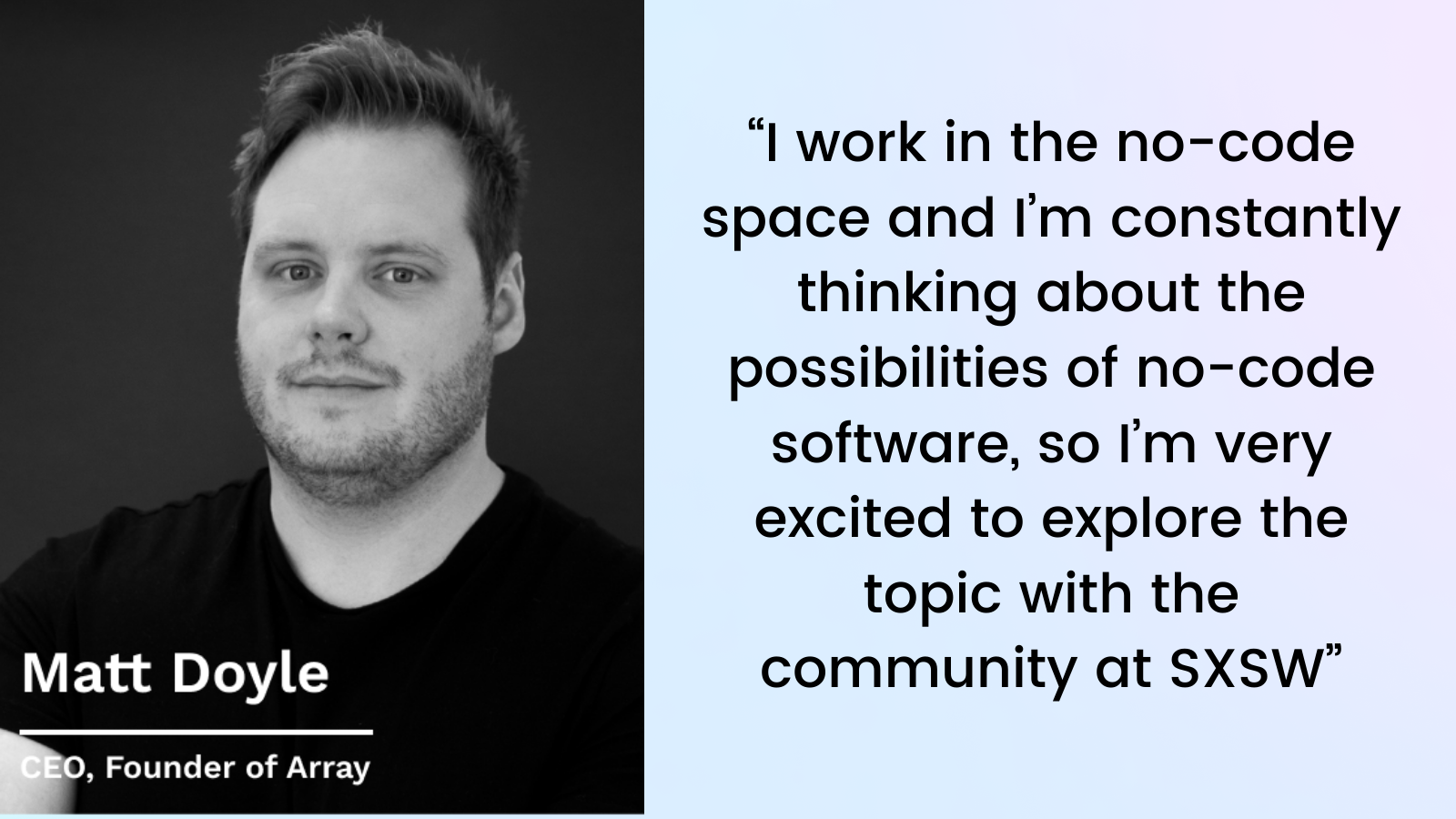 These "Citizen Coders" are people within an organization looking to create an impact in the way their teams operate or they are creative entrepreneurs looking to enter the tech landscape and create solutions for others without the use of developers or funds spent on IT.
No-code tools are already part of the web development ecosystem, but soon enough they will become the gold standard in how businesses complete their processes.