The Benefits of an Automated Workflow
Workflow automation is an easy way to streamline manual and paper-based processes comprising of unstructured tasks. These tasks, although necessary, are often inefficient, costly, and a waste of valuable resources. Using Array, you can automate your processes both in the frontend and backend to:
Reduce errors and prevent tasks from falling through the cracks
Empower employees to successfully manage their own work with little to no supervision
Make employees more efficient and effective
Improve internal communication
Check out how Array uses workflows to promote efficiency here.
Backend Workflow Automation
Array's backend workflow automation uses incredibly smart integrations and intelligent reporting to speed up your processes and make the data you need more accessible to you. Capture the information you need either on the web or on a mobile device and then view whatever metrics you need instantly and in realtime through Array's Reports dashboard. Array integrates directly into your CRM, Google Calendar, Google Docs, or Evernote, and the list of integrations is growing every single day.
Perhaps the most powerful integration Array has completed is with Zapier. By working with Array and Zapier, users can utilize seamless automation with over 3,000 different applications. Learn more about it here.
The ability to streamline your backend processes means that data will be stored and interpreted accurately every single time. This greatly improves your team's time management, increases your reporting output, and removes the need for redundant data reentry.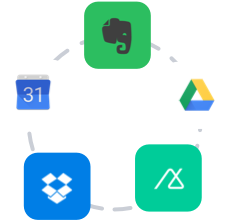 Frontend Workflow Automation
The frontend of your business is arguably more important at times than the backend. This is the side that your customers see on a daily basis and your employees will frequently interact with. Because of this, you want it to be as efficient as possible. A streamlined frontend will create a better customer experience and more efficient employees.
Once forms have been created, use Array's workflow automation tools to make those forms work for you. Use tools like Conditional Logic, computing functions, or Email and SMS triggers to automate your data collection and create a better user experience. Check out some of the tips we provided for building smarter, more efficient forms here.
The possibilities are endless when you automate your work processes with Array. Try it for free today or book a demo to check it out.